Omnisphere is a powerful and versatile musical instrument based on a vast library of samples and manipulated by an engine of seemingly endless capabilities. Whether you're on a laptop in your bedroom, in the studio or live on stage Omnisphere goes where other virtual instruments only dream of going, and the best part is you're in the pilots seat.
Magic Inside
But how can it be so amazing, you may ask. After all, aren't there a million and one other plugins that are all amazing? The magic ingredient at the heart of Omnisphere is something called the STEAM engine. This is the engine of seemingly endless capabilities I mentioned in the opening. It's what merges any one of the thousands of high definition samples with each other, sewing synthesis into the emerging tapestry with a deftness never before witnessed in digital synthesis.
The STEAM engine is many years in the making, "...truly an Epic project," says Eric Persing, Founder and Creative Director of Spectrasonics. "It's been a very exciting process" he goes on to say, "Involving our team of software engineers, sound designers, musicians, and graphic artists from all over the world." And perhaps that is at the core of what sets this virtual instrument apart from the rest, the collaboration between so many individuals each providing expertise from their chosen discipline to create a truly unique instruments.
Easy Access
Providing easy access to all the many and various delights that Omisphere has to offer is no mean feat in and of itself, so the user interface people at Spectrasonics have developed multiple innovative ways to easily access the huge library of over 8,000 sounds, patches and soundsources.
You can choose to simply float along near the surface, selecting sounds from a seemingly endless list of presets arranged in various categories such as ARP + Rhythmn (910 patches), Psychacoustic (300 soundsources) or Textures (366 patches) or you can drill all the way down into the realm of sound creation itself where tools such as Variable Waveshaping DSP synthesis, Granular synthesis, Timbre Shifting and even something called the Chaos Envelope lives.
I used to think of myself as a "scroll through presets until I find the sound I like" kind of musician when using plug-ins, primarily because there are so many of them, but since using Omnisphere I've found myself using the sound manipulation tools to create and shape entirely new sounds that come close to almost any sound imaginable, something that is usuualy quite a daunting prospect for the least technologically inclined among us.
Video Tutorials
Omnisphere includes an extensive set of video tutorials that lets new and experienced users alike better get to grips with the powerful technologies that live beneath the hood. "We've been very deliberate in making it easy to use, and yet extremely powerful." says Eric of Omnisphere, which is also the successor to Spectrasonics' popular Atmosphere instrument that was a boon to movie soundtrack composers from the day it was released, and this approach is made obvious even in the way in which the more casual user can search for sounds simply by entering the type of sound they are looking for.
Spectrasonics recently made the video tutorials available to not just registered owners but to the public also. You can check them out here here.
Digital Synthesizer Technology
Omnisphere makes good use of various digital synthesizer technologies to not only affect the combinations of samples used in a preset but also to create the sounds themselves. Oftentimes you may be playing a preset that sounds like a sample but is in fact completely generated from the ground up using a combination of these technologies.
Some presets relying heavily on Granular synthesis for example, a relatively new way of creating or deconstructing a sound and rebuilding it into something entirely new, are further modified by ring modulators, timbre shifting or even the kind of FM synthesis made popular with the introduction of Yamaha's DX7 synthesizer.
I mentioned earlier I'm a scroll through presets guy, but I soon found myself drilling down deeper into the control interfaces than I normally go, each layer affording more and more control over the core sounds until you are able to literally alter the very structure of the fore samples. The sheer range of parameters had me tweaking for hours until I finally surfaced with a sound that was exactly what I was looking for, and more.
But the more casual user always has the option of sticking with the top level interface that lets you access the primary functions without ever needing to open up the deeper editing parameters. This will come as welcome news to those who spend more time grappling with a mind boggling array of sliders and buttons when all they wanted was to tweak an entire subset of parameters with one setting.
Arpeggiator
Another really useful feature built into Omnisphere is a 32 step arpeggiator that can also be synced to any MIDI file, including loops created by Spectrasonics' realtime groove module Stylus RMX. Just drop the MIDI file into the Groove Lock window and merge the two to using a slider to get just the right balance between your sequence and that of the drum loop.
With so many sound combinations to choose from you'd think that would be enough for any instrument, but Omnisphere goes further by offering an effects rack with over thirty effects ranging from modulation effects such as Choruses and Flangers all the way through to Delays, Compressions and EQ's, with each and every effect fully programmable and able to be saved along with your sounds as a preset.
An infinitely powerful yet relatively easy to use addition to any digital workstation, Omnisphere is a must have tool for anyone looking for tools that will take them to the next level in music production.
Live Performance Dream Machine
Most of the commentary so far has been focussed on using Omnisphere in a studio environment, but what if you want to use Omnisphere in a live environment such as a hanger full of people going crazy at 3AM, or at a mountain retreat Zen state seekers?
No problem, turn on LIVE MODE!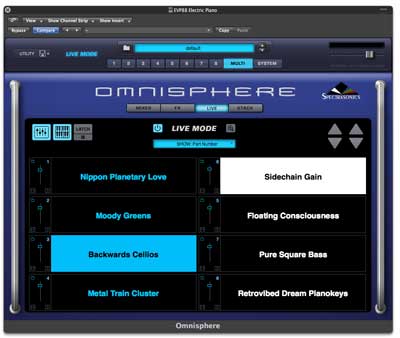 Omnisphere LIVE Window
There's a veritable one-person Rave machine behind a fairly innocuous button called MULTI on the default interface screen. One click on that and you have access to Mixer, FX, Live and Stack.
The Mixer lets you choose eight presets that can be blended together in real-time using faders, mute and solo buttons. Each channel also has four auxiliary controls allowing you to route each preset to one of the four effects racks in the FX section, a pulldown that lets you assign each channel to any one of sixteen MIDI channels and also eight output settings.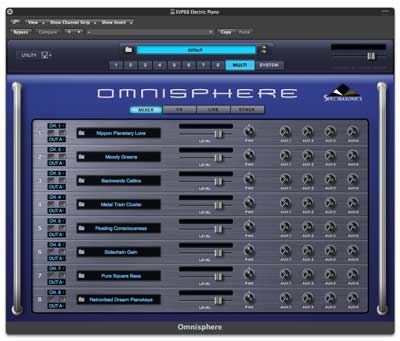 Omnisphere MIXER Window
With over thirty fully programmable EQ's, Reverbs, Compressors, Delays and Modulation effects in the FX section to choose from, you'll have more than enough reasons to make full use of the Aux settings in the Mixer window, with each of the four FX windows containing four rack spaces that's potentially sixteen easily accessible effects you can apply to each of the eight channels without having to search through a screen full of plugins to find the one you want.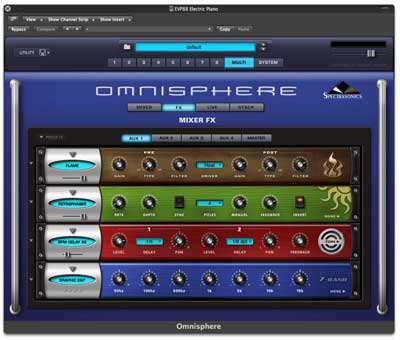 Omnisphere FX Window
Once you have your presets selected in the Mixer section, and your effects modules all stacked up in the FX section the LIVE window becomes a one stop shop for routing your music through any one of eight panels within a matrix, each one representing the settings you created in the Mixer and FX windows.
Just click on a panel and the whole mood changes. Extremely powerful yet very easy to use.
If that wasn't enough there's a feature called Stack that lets you draw where your presets are located on the keyboard. Click and drag the bottom corner of each box to stretch or shrink the range of notes the preset will span, overlay presets over other presets and even create fade in and our by clicking and dragging the top corner of a box so the levels increase and decrease across a range of notes.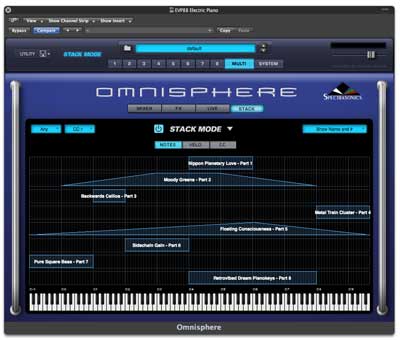 Omnisphere STACK Window
Roll The Credits
While writing this review I checked out the space drama Gravity and later learned that Omnisphere played a role in the production of its soundtrack, which really isn't that surprising given the amount of pads, SFX and other atmospheric elements that are available either as presets or possible by merging and layering sounds from the library.
Other projects that have benefitted from this sonic powerhouse are Breaking Bad, Skyfall, Lord Of The Rings and Prometheus just to name a few.
For more information about Omnisphere and other products from Spectrasonics just head over to their website and join the likes of Danny Elfman, Steve Vai, Herbie Hancock and countless other artists who added Omnisphere to their production system.
UPDATE: For anyone looking to upgrade to a new computer without a DVD drive just follow the instructions here to copy your exisiting sound libraries over without having to buy an external DVD drive and spend a couple of hours re-installing the massive sound libraries.