Patchwerks have opened the doors of their brand new modular and standalone synthesizer retail store in Seattle's Lane Union neighborhood, joining a select few cities that let people get their hands on the latest and greatest products.
As with most synthesizer retailers they rely heavily on online sales, but the importance of making the instruments physically available to consumers is just one of the reasons why such brick and mortar showrooms might soon be coming to a town near you.
While I was in line to check out my purchases, a Mult manufactured in Asheville, North Carolina by Make Noise, and a silk lined hessian bag full of braided patch cables from Mutable Instruments, the customer ahead of me was checking out with over $1,000 worth of modular synthesizers, a purchase that might very well have been delayed or put off indefinitely without being able to just walk in and buy them right off the shelf.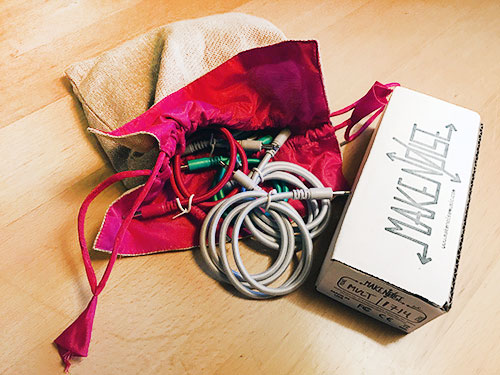 Photograph by PAUL CLARK
On display are products from Intellijel, Korg, Make Noise, Roland, Mutable Instruments, Waldorf, Moog Music, Malekko Heavy Industries, 4MS and Teenage Engineering, the makers of pocket sized instruments that everyone should own.
Before Patchwerks opened their doors to the public the only other way for Seattle residents to get hands-on experience with modular and standalone synthesizers was to take a trip down to Control Voltage in Portland, Oregon.
For stores in other parts of the country check out the list below, but be sure to check out the website or give them a call before leaving the house, they may be appointment only on certain days while they focus on shipping online orders.
Locally owned music stores also stock synthesizers but none of them currently stock the wide range of modular synthesizers that are growing in popularity among musicians who want a hands-on alternative to software based instruments.
Patchwerks, 3107 Eastlake Ave E Suite B, Seattle, WA 98102. (844) 928-3376
Control Voltage, 3742 N Mississippi Ave, Portland, OR 97227. (503) 265-849
Nerd Audio, 1613 W Belmont Ave, Chicago, IL 60657. (773) 975-4250
Switched ON, 2400 E. Cesar Chavez St. Suite #200 Austin, TX 78702. (512) 782-8806
Big City Music, 11106 Ventura Blvd., Studio City, CA 91604. (818) 985-0855
Three Wave Music, 5 Valley St., Hawthorne, NJ 07506. (973) 949-3199
Should your store be on this list? If you have a physical location where people can come and try out modular synthesizers, and you're not just a display cabinet in the corner of a Guitar Center, drop us a line here