Paramount Theater, Seattle - Monday, April 26, 2004
By Cathy Sorbo.
With color themes of black, white, red and grey, Kraftwerk absolutely commanded the stage with a multi-media show that was so perfectly synched it hurt.
The capacity crowd lit up at every teeny audio cue and the groove was palpable while we watched projected imagery of family picnics off The Autobahn, vintage lovelies modeling the latest from Paris during The Model, and a slow seductive cascade of pills (vitamins, of course) that segued in time without one single flap.
From the awesome in-your-face opening of Die Mensch Machine to the third and final encore of my personal favorite Musik Non Stop, we were treated to a timeless yet modernized performance starring the comforting, almost conversational singing style of Ralf Hutter.
We watched, we danced, we all loved this show. For those who need a description of the music itself, I have two words: Kling Klang.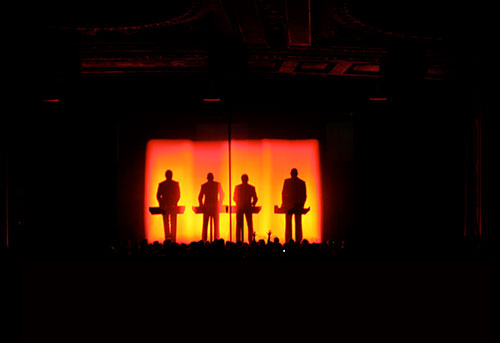 Photograph by PAUL CLARK - Enlarge
Photograph by PAUL CLARK - Enlarge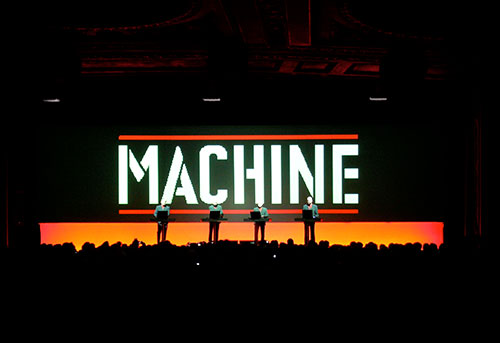 Photograph by PAUL CLARK - Enlarge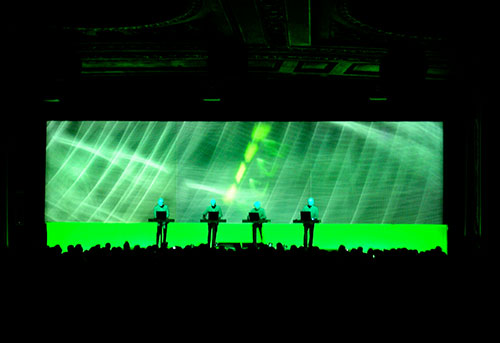 Photograph by PAUL CLARK - Enlarge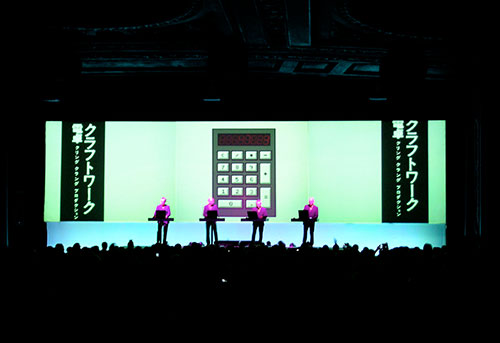 Photograph by PAUL CLARK - Enlarge
The Man-Machine, Expo 2000, Tour de France '03, Vitamin, Tour de France, Autobahn, The Model, Neon Lights, Radioaktivitat / Sellafield, Trans Europa Express / Abzug/Metall Auf Metall, Numbers / Computer World / It's More Fun to Compute / Heimcomputer, Pocket Calculator, Die Roboter, Elektro Kardiogramm, Aero Dynamik, Boing! Boom! Tschack! / Musik Non Stop